As we approach the end of the year and the holiday season, it's more important than ever to get your rental home on the market. While the holidays are a joyous time for many, some may feel the burden of having winter vacancy during this particularly happy season. Increase in outgoing monies for utilities, the stress of weatherproofing for those freezing nights, it's all a nightmare! Below, we'll explain the extreme importance to have your home rented by December 20th or sooner during the Holiday Season.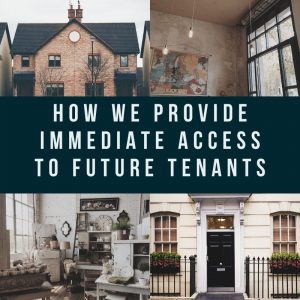 Why December 20th? What's the big deal?
Winter is a nasty time to move. Freezing weather, the possibility for snow and ice, and increased moving fees are just a few examples. Winter storms will often shut down an entire city (or county) meaning no movers, no utilities, and especially, no enjoyment of family-centric holidays. Realistically thinking, would you, the landlord want to move your entire life during the already stressful season? Don't you enjoy decorating your home? If the answer is yes, presumably, then most of your 'why' questions are answered immediately.
Understanding and empathizing with the above, it's clear to see the natural struggles that WILL ultimately come up if your home is still suffering from winter vacancy. Fewer and fewer people are looking for and are willing to move during the last few months of the year. (Typically, we see a steady decrease in traffic and moving tenants beginning around mid-October.) This isn't to say that we don't see people transitioning during this time, it just becomes a more narrow pool than what you'd expect in the summer months. One of the biggest issues that arise in this particular situation though is the level of supply vs. the level of demand (We'll touch on this more below). With possibly hundreds of homes available in an area, finding that perfect tenant can be exhausting and frustrating. Not only are you competing against these other homes, but you're also fighting to win the affection of future tenants.
How to Rent Your Home by Christmas and Avoid Winter Vacancy
Advertise at Market Rental Rates
The most important word here is "Market". Too often this word is blatantly ignored by rental investors as the goal is to strictly get the highest rental rate no matter what. Well, of course, isn't that what we all want? But what are you sacrificing? Time, money, and tenant quality are the top three things you'll be losing out on when you avoid doing research on the market or cant come to an agreement with your property manager.
Example:
Mary is a new rental investor and has recently purchased a 2200sqf home in Zebulon, Nc where the average rental home goes for $1600. The home itself was built in 2013 and the flooring, paint, and major appliances are relatively in good condition but not new. Its a 4 Bed/2.5 Bath with no fenced in yard but has a large two-car garage. She won't be allowing pets or any additional services (landscaping, pest control, etc). She wants the home listed for $2200 because that's what her friend said she'd probably get. Its November 4th and Mary didn't do her research.
Swinging back to the market, you'll see a few different holes in Mary's grand rental plan. Firstly, the area, or market, she's currently in doesn't support such high rental rates. This town in particular, for those who are unfamiliar, is a growing community with new construction happening around every corner. Most of its residents commute for work and are seeking affordable housing outside of the major city limits. Secondly, Mary isn't offering things most renters in that market are wanting or needing. Currently, studies show that roughly 82% of renters are pet owners of some kind and would like to have an accommodating home for all members of the family; yes, we're talking about the fenced-in yard. Lastly, the time frame Mary's looking to rent in has a much more narrow pool of prospects than any other no matter the location.
Example Continued:
After three weeks of sitting on Zillow and Realtor.com, Mary's only had a few people interested and one tour. She's dropped the price by $50. It's now Thanksgiving week and she's noticed there is no interest in her home. She assumes it's the lack of fenced-in yard and holds out for that higher rental rate! Two more weeks pass and her home hasn't seen any interest so she drops the price by $100; we're at $2050 and still way above market rate. January rolls around and Mary has now paid the mortgage on her vacant rental for two months as well as all of the utilities. Frustrated, Mary calls her local property management company to assist her in finding her perfect tenant.
At the end of the day, it's important to understand two things. Firstly, just because you bought it, doesn't make it the greatest home available, and secondly, trust what your prospects and market area are reflecting. Winter months typically see a lower market value due to the lack of willing movers. Certainly, added amenities like lawn service or including a washer/dryer are absolutely going to increase the rental value but not by hundreds of dollars. A good rule of thumb is to assume that the increase in rent you'd see over the course of the year should also roughly equal out to the costs of these 'extras'; no more than $400 additional over a one-year lease term. Pets are similar and should be strongly considered to open up your prospect pool. You can read more information and the importance of accepting pets in your rental home HERE.
Offer an Unadvertised Incentive
While we typically try to avoid these as much as possible, sometimes a little extra nudge is all it takes. It doesn't have to be a huge incentive either; we NEVER offer discounted security deposits or 'one month free'. Small gestures, especially over the Holiday Season, can mean the world to someone moving and can even create a long-lasting bond between tenant and landlord.
Here's a Tip! The best incentives you can offer are the ones you probably already have plans for in the Spring. Things like a Spring House Power-Washing or Spring Grass Treatment will really impress future tenants.
Never Sign a 12 Month Lease in Winter
We're pretty sure this goes without explaining but you'll just get yourself locked into this same position of lower rental rates and low prospect pools. Signing a 16-month lease will drop you into the Spring/Summer months and is ultimately a benefit all-around; remember the goal is to avoid winter vacancy at all costs. If you find yourself getting opposition from your prospect for a longer lease length, we suggest being completely upfront and honest; 99% of the time, in our professional experience, people are more than understanding. Worst case, there's always a happy medium.
Winter Vacancy Costs More than Discounts
Ok, so 'discount' probably isn't the best word here; Investors feel put in a weird place mentally about the quality of their rental home. Typically, when you think 'discount', especially around the holidays, you think of that unpurchased bag of candy-corn collecting dust. NEVER is that the case. Putting discounts (rate reducing) on homes, especially during the Holidays is something that not only are those few movers looking for but it's also a great time to add those landscaping or pest control services. Your tenants may be more likely to pay a little more to help cover those costs and it'll benefit your yard and your home. Additionally, it'll improve your tenant/landlord relationship, so when the time comes for an appropriate rental increase it won't be a shock and your tenants are more likely stay!
Here at MoveZen, we pride ourselves in our extensive knowledge and 'go get-it' attitudes. We understand the importance of having an occupied home, even more so in the chilly Holiday months. With many of our employees being well-seasoned veterans, our past experience coupled with our constant need for success keep us ahead of the competition in more ways than one.