Being a landlord can be a rewarding and lucrative gig. Sure, it can be a lot of work, but getting your mortgage at least partially paid for is worth it to many people. Of course, these landlords want to be renting their apartments and homes to the highest-quality renters.
While it would be lovely if everyone who wanted to rent your unit has perfect credit, that isn't always the case. Renters have a lot of options when it comes to finding the right unit. For example, using a site like UMoveFree gives potential renters thousands of apartments to consider.
With so many options for renters, landlords can't always have their pick of the litter as they might go elsewhere. As a result, landlords may need to work with some potential tenants with bad credit. This can be worrying to some, but thankfully, there are some things you can do.
Without any further ado, this article is going to go over a couple of tips when it comes to renting to someone with bad credit.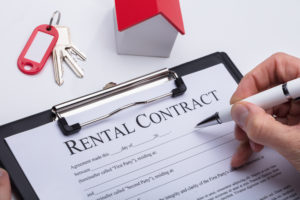 Have Them Get a Co-signer
One of the first options to consider when working with someone with bad credit is to have them get a co-signer. A co-signer is someone who will agree to make payments for the tenant if they are unable to for one reason or another. This is helpful when it comes to making sure you are always paid on time and in full. Without this co-signer in place, you could end up stuck chasing your tenant trying to get rent paid.
Of course, be sure to also complete a credit check on the co-signer. If the co-signer also has questionable credit, that is exactly a large vote of confidence. They should be in a good financial place and be able to make the payments if the person you're renting to is unable to do so.
Consider A Larger Security Deposit
Another tip for renting to someone with bad credit is to potentially consider having them pay a larger security deposit. If the standard for security deposit is one month's rent, you could have them put down a deposit or two or three months' rent.
In a similar vein, you could also charge them a couple of months rent up-front. This will help to make sure you are protected. This won't cost them anything more in the long run but will give you a couple of months rent upfront to reduce the risk that the bad credit tenant will have.
You could also decide to charge them a larger amount of monthly rent. This will protect you in case the renter is unable to pay in a given month. This is similar to how lenders will often charge those with bad credit higher interest rates than those with good credit.
However, if you try to charge them too much, it could be deemed predatory and charging too much could deter people from renting with you. Also, some cities or areas will have rent ceilings or other rules in place, so be sure you are always abiding by those.

Learn More About Why Their Credit is Bad
When some people see a bad credit score, they automatically assume it is due to financial irresponsibility. While this can certainly be the case, there are many other reasons that someone could end up with bad credit. A failed business, a car accident, an injury, identity theft or even mistakes on a credit report can all be reasons for a bad score.
As a result, it is a good idea to ask the potential tenant about why their credit score is bad, and what they are doing to improve it. You might realize it is something much more innocent and manageable than you initially thought.
In addition to finding out about their credit history and the reasons behind it, it's also a good idea to find out how they have been as a renter in the past. You could reach out to previous landlords or have them provide references, as well.
In conclusion, we hope that this article has been able to help you learn some great tips when it comes to renting to someone with bad credit.