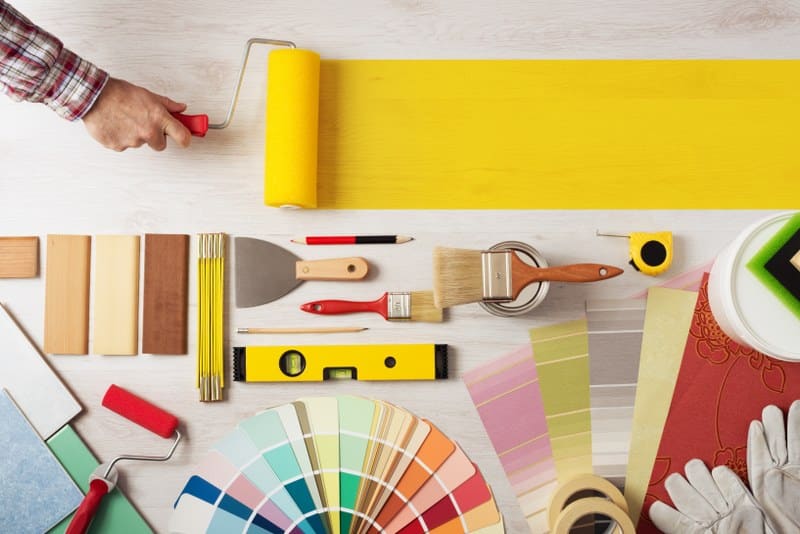 There comes a point when you just want to make this rented house or apartment into your home. The problem is that it isn't your home. Kitchens are the most popular space to be in and also the most expensive to renovate and often landlords put it off as long as possible. This can mean that you could be trapped with a kitchen that is either caught in another century or one that is constructed of bargain-basement appliances and Craigslist specials. But there are some kitchen upgrades you can make that can completely change the look and feel of your space without scaring your landlord or creating costly repair bills. While some kitchen upgrades will require approval from your landlord, others are pretty harmless or are easily returned to their original condition IF you decide to move out. Below are a few kitchen upgrades that you can do to change the look and feel.
Easy Kitchen Upgrades
Change the hardware. This can be a cheap way to modernize the look of the kitchen. If you do not want to get landlord approval, make sure you keep all the old hardware and replace it when you move out.
Update the backsplash. You do not have to take out the old, just cover it up. Mount tiles to panels that you can stick in place with a temporary adhesive. Stores like Bed, Bath and Beyond even has a peel and stick vinyl specifically for backsplash areas!
Put up artwork. It is amazing how a piece of artwork or some other decorative item can change the look of a room. You may even be able to update what you already own! Adding pops of color to that old fruit basket or dying those old white kitchen towels can bring a new life into everyone's favorite room.
Change the curtains. This is another interesting and low-cost option. With thousands of different colors, patterns, and styles, replacing those tired window blinds with modern prints can elevate your kitchen from drab to fab!
Hang a shelf or pot rack. Low on cabinet and counter space? A metal spice rack, a copper pot rack or a white shelf could be the new focal point in the kitchen. It requires little effort but is easy to remove down the road.
Paint the walls. Just changing the walls from beige to a deep red, vibrant blue or subtle gray could completely change the look of the kitchen. Use chalkboard paint to add some fun and interactive space to the kitchen. This change will need landlord approval.
Install temporary wallpaper or decals. Possibly one of the hottest trends right now is the temporary wallpaper and decals. If you hate painting or your current landlord is against it, this may be just the ticket to that kitchen upgrade! With plenty of options of colors, patterns, and textures, it's easy to freshen up that tired kitchen of yours. Some products even look great adhered to your current cabinetry; Just make sure no damage is done upon removal!
Remove the cabinet doors. A modern option is open shelving. If you remove the cabinet doors and put down some pretty wrapping paper, shelf liners or lace edging, you can get the newest look for almost nothing. Just remember to tuck to doors away in a safe place because you will need to put them back on when you move out.
Change the lighting. While this can be a little trickier depending on the age of the home and light fixture, its never a bad idea to do a little improvement (especially if you plan on staying a while). If you do not have much electrical experience, please hire an electrician to install the light safely and securely. If the kitchen is just dark, try installing LED strip-lights under the counters.
Replace the faucet. You can get a new modern faucet for around $80 to $150. This can be a small price to pay for something you use all of the time. It is amazing how much of a difference a faucet can make and how proud it will make you feel. If you keep the old one, you can even take yours with you to your next place.
Change the countertops. Okay, I don't mean taking them out or painting over them, but if your counters are hideous, you could cover them with decorative contact paper. Similar to the peel-and-stick temporary wallpaper, this contact paper can mean the difference of loving or hating your kitchen. The best thing is, you can remove it with a hairdryer and goo gone when you move out.
Work with What You've Got
Before you start on your kitchen upgrades, take a long hard look at this room. Visualize what it will look like when you are finished. What look do are you after? Are you aiming for modern and sleek? How about country chic? Once you set your style, work from the cheapest option out. Remember that a simple coat of paint can change dull into dreamy and dingy into dramatic.
Look for ways to conceal your kitchen's unattractive features or draw the eye away to something more visually stimulating. Even putting down a colorful throw rug could be all it needs to make the kitchen yours.
Just remember that any permanent kitchen upgrades need to be approved by the landlord or their agent. Any damage to the drywall such as holes or tape marks will need to be repaired when you move out. But other than that, please make yourself comfortable. We want you to stay!
Read more about what tenants can do with their bathroom here…