It goes without saying that Zillow.Com is the leading search engine for rental properties. DIY Landlords and property managers have been using this tool for years to find their perfect renter. It's an easy system to use but with thousands of rental listings, how do you stand out against the crowd?
We're going to break down the steps on how to list a rental on Zillow and what things you should be doing to help your listing stand out to prospective renters. From taking the perfect pictures, screening tenants, and general use of this property management tool, DIY landlords will have everything they need to list their property for rent.
Create a Zillow Account
Easy enough. Creating a Zillow account gives you all the access you need to start your journey of becoming a landlord. Completely free to use, you'll have the ability to run through your entire leasing process all from one website or their app. With over 30 million visitors a month, it would be crazy not to use such a powerful listing service. Its simple step-by-step guide makes it easy for DIY landlords to take control of their investments without the guessing game. The tricky part however is creating a listing that is both appealing and showcases your property.
Market Your Property
Marketing properties can be more than meets the eye. And in all honesty the make or break of renting your property. In general, you might think taking a few pictures with your phone will do the trick. It can be done, don't get us wrong, but without careful consideration, you're likely to find your rental property sitting on the market for longer than you hoped for.
Take these two listings we recently saw in Morrisville, NC for example. They're on the same street and were both listed on the same day. One home has over 30 contacts while the other only has 4. Why?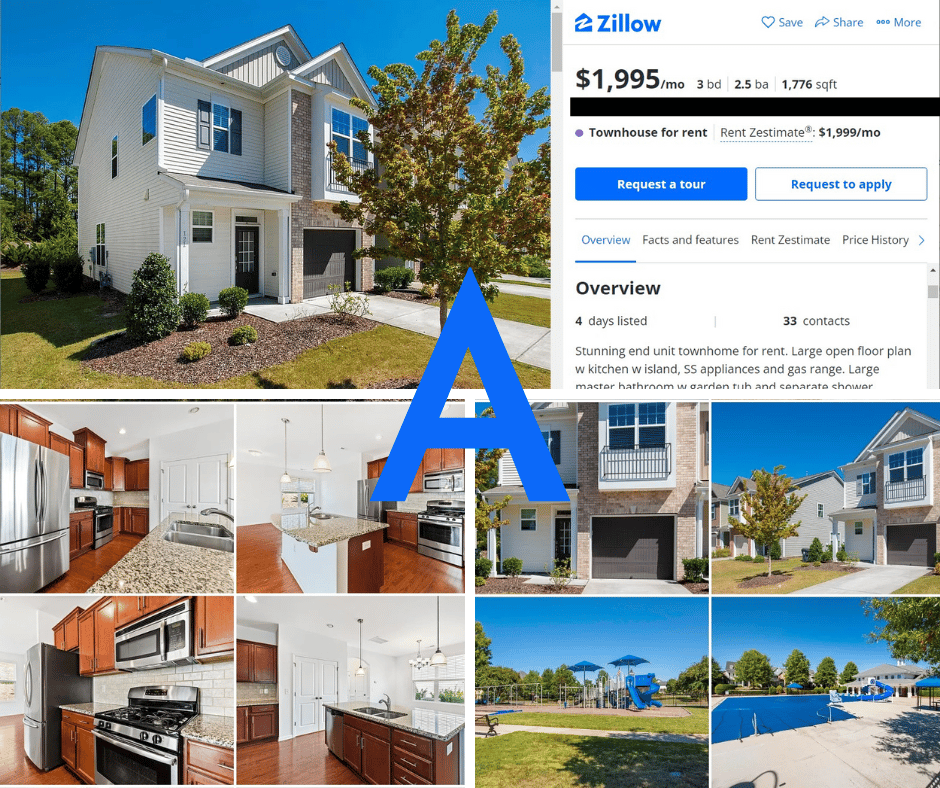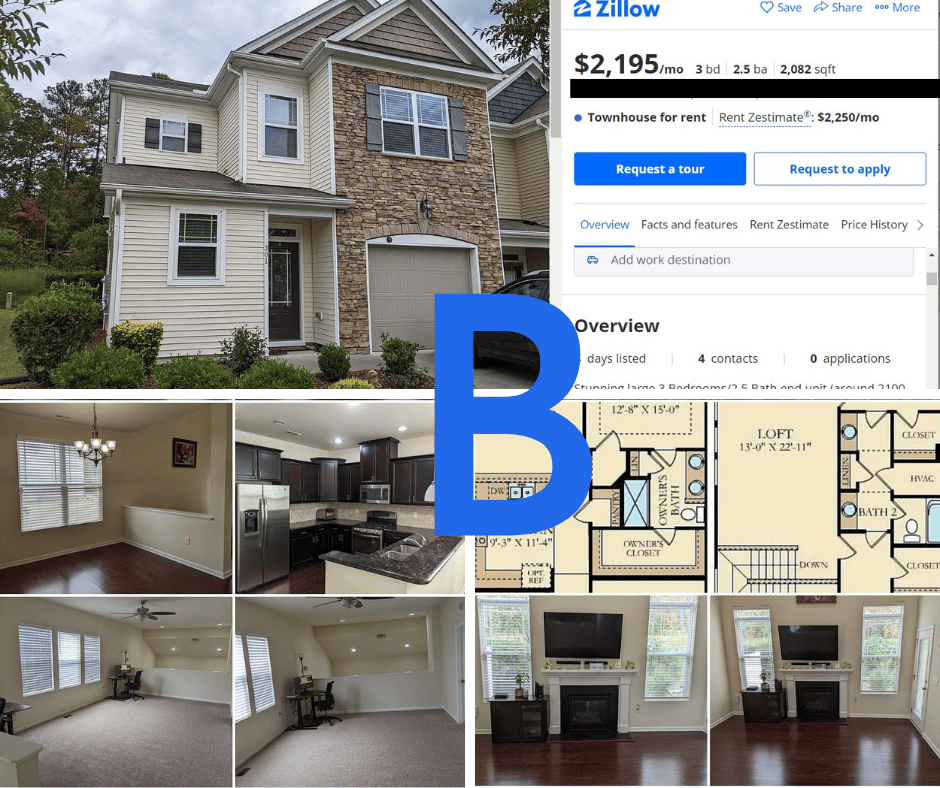 Without a shadow of a doubt, the image quality between these two homes is what's making home A (listed by a real estate professional) and breaking home B (listed by a DIY landlord). In the endless scroll from prospective tenants, you need a main image that's going to catch their attention. It's just human nature to be more attracted to things that seem light and airy as opposed to dark and cramped.
Home A is an eye-catcher to prospective renters in their endless scrolling. It's bright and vibrant and showcases the entire home with its beautiful landscaping. Renters see this home and think about all the natural lighting pouring into the windows, see the immaculate landscaping they can be proud to call theirs, and a general sense of happiness surrounds this home.
Home B's pictures on the other hand were taken on a cloudy day. While the entire home and some of its landscaping are showcased, it's hard not to have feelings of dread when seeing this image. The home feels smaller, and darker, and doesn't showcase that the property has any yard space to speak of.
All of this is coming from just one image; the first image in your listing. It's crucial you put your property's best foot forward to appeal to renters through your proverbial door.
At a glance, it's clear to see why home A has so many more contacts than home B. The interior pictures of home A are clear and bright, and leave the imagination running wild with no personal effects left behind. The images give viewers a clear understanding of the space throughout the home inside and even more importantly, outside. Additionally, the community amenities are featured. Given the choice, renters will always choose a home with amenities over one without. With rents as high as they are, the added benefits help outweigh the monthly costs.
Without going into it much further, home B is at a clear disadvantage. Dark, crooked, and limited pictures of the home simply don't give renters the "warm and fuzzies" they're looking for. Their hesitations about the home being dark inside were true and before a second thought was made, home B's listing was closed.
In short, it's crucial for DIY landlords to make every effort to showcase their rental property to the absolute best of their ability to avoid getting looked over. Zillow allows landlords to post up to 48 pictures so take as many as you can! Google offers free image editing programs to enhance your images as well. Providing beautiful pictures, giving some basic property details, and even a Zillow 3D Home Tour can be the difference between your property renting or not.
Price Your Rental
Easily one of the most difficult things to do, pricing your rental is key to getting your home off the market as soon as possible. Inaccurate rent prices can lead to long vacancy periods (which can add up quickly) and equally as bad – you could be selling yourself short. Just like our example above, not only are the images of home B unattractive, this homeowner may be stretching the limit of their rental value.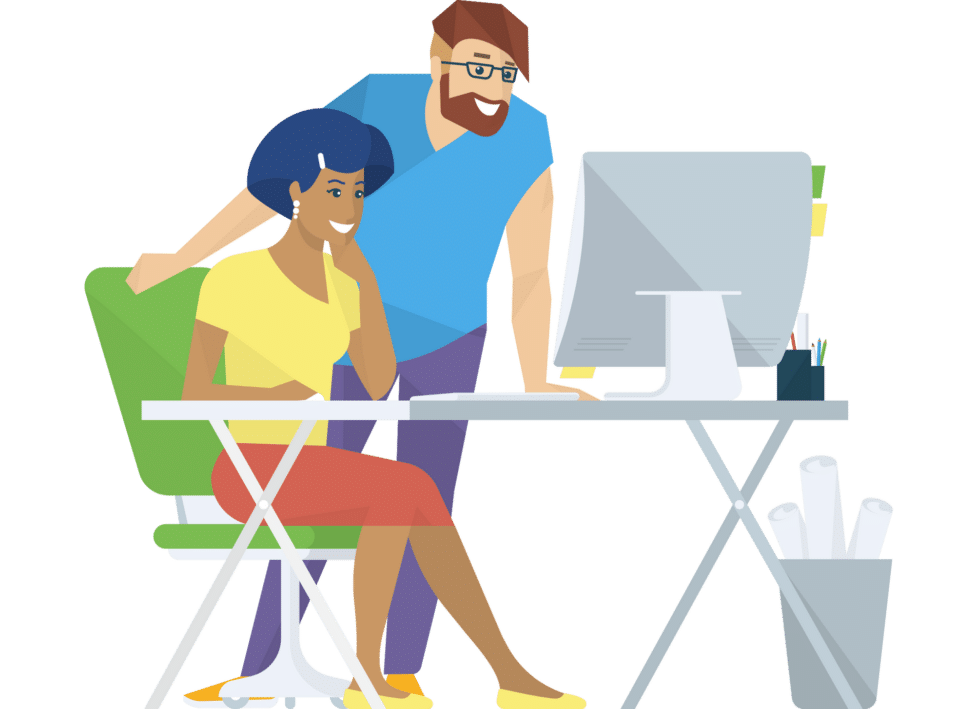 What's My Home Worth?
See the value of your investment home in today's hot rental market!
Zillow offers free rent estimates directly on its website while posting your listing and can give you some market insights. They look at other homes that have been on the market in the last few months and calculate an average rental rate for your area. Take the guessing game out of rent pricing and let the experts guide you!
It's important to note though that Zillow does not take into account time of year, the condition of your home, or amenities; all important factors in pricing your rental property accurately. Even things like having an acceptable pet policy can increase the value of your rental. With over 85% of renters having some sort of pet, we highly encourage all landlords to consider accepting them.
Homes for Rent
After following Zillow's step-by-step guide, you're ready to list your property! It may take up to 24 hours for Zillow to approve your listing but your ad will soon be live on Zillow.Com and other rental listing sites like Trulia.Com and Hotpads.Com giving you the max amount of exposure.
Once your listing is live, renters can submit online applications directly from Zillow for your review. Screen potential tenants from their one-stop-shop online platform and see your applicant's credit, background, and eviction history. Rest assured you'll get all the information you need to approve your applicant and create a lease.
Zillow's lease signing tools make it easy for landlords and tenants to connect with easy online lease signing, lease customization, and options to create your own lease terms.
Collect your tenant's security deposit and rental funds all from their online platform and forget about collecting snail-mail checks every month. Online rent payments mean your funds will be directly deposited into your account monthly. Have concerns about missing rent payments? For a low monthly fee, Zillow offers Rental Protection Insurance to property owners to help cover those burdens.
DIY Landlord Option
You don't NEED to hire a property management company. Check out our low-cost option for DIY landlords.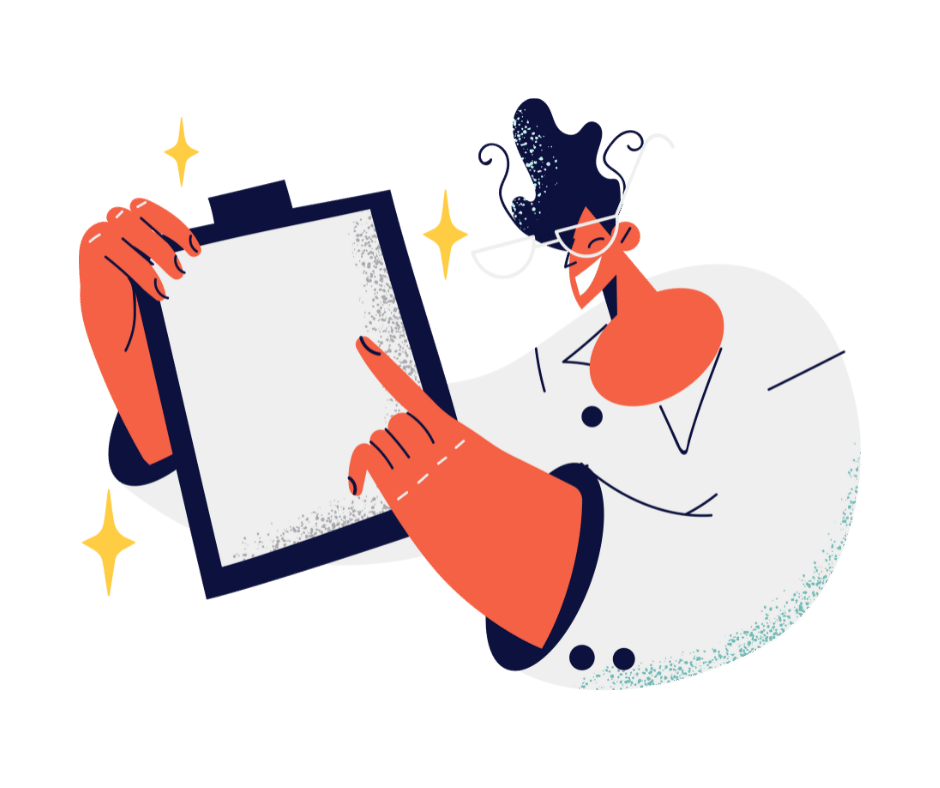 Tips for New Landlords
The real estate industry can be a beast to navigate. Make sure you understand your local and federal fair housing laws as well as create a legally binding lease that would hold up in court.
Take amazing photos of your rental listing and consider adding 3D Tours to compliment your home and hard work.
Screen all rental applications thoroughly by looking at detailed reports of your future tenant's credit, criminal, and eviction history. Consider factors like medical and student loan debt as normal and try not to let those put too much weight on your tenants' creditworthiness.
Consider pets. Having a no-pet policy will guarantee your rental home sits on the market long term. Over 85% of renters are some sort of pet owner and many of them are willing to pay a reasonable pet fee.
Do research on all of your options for property management software. There are several companies like Apartments.Com that offer all-inclusive options for DIY landlords.
Consider using a property management company. A professional property manager can provide all the common property management tools you need and more. They cover all aspects of property management if you'd like and some even offer low-cost options for DIY landlords.