If you are looking to move to Raleigh, then no doubt you are interested in learning about the neighborhoods, boroughs, 19and suburbs. This information will help you choose just the right place for
you and your family. This week in our Feature Neighborhood series, we are going to focus on Cameron Village Raleigh, NC.
The Highlights of Cameron Village
Cameron Village Raleigh, NC was the first planned community to be developed in Raleigh back in 1947. It is the sister neighborhood to Cameron Park. They are separated by the Cameron Village Shopping Center. This isn't a mall but a village shopping and dining experience that has been around since 1949. It features over 100 stores, over a dozen restaurants and includes the Cameron Village Regional Library. While this area is not as historic as Cameron Park which equates to housing that is a little more affordable. This neighborhood has a nice suburban feel about it and offers good quality starter homes on some nice large lots.
Where is Cameron Village Raleigh?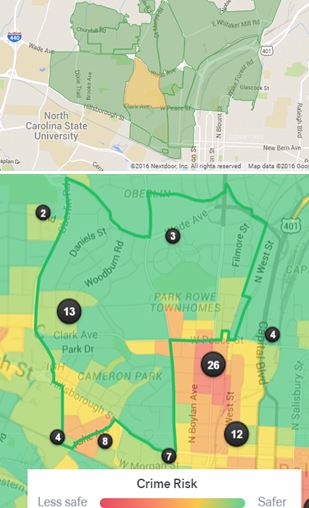 Cameron Village is located West of downtown Raleigh between Wade Avenue to the North, Clark Avenue to the South, St. Marys Street to the East, and Oberlin Road to the West. Click here for directions.
Cameron Park (included in Hillsborough) rates with a livability score of 80 on the Areavibes livability scale earning it the title of "Exceptionally Livable." It is the 6th best neighborhood in Raleigh because of having "lots of local amenities, low crime rates, a stable housing market, and sunny weather."
What Makes This Area Special
Cameron Village Raleigh is a great spot in. Not only are you minutes from downtown, but you have all of life's amenities and services right there at your fingertips. It is a safe neighborhood to raise your family. Real estate prices are reasonable with plenty of homes to choose from.
Cameron Park has a very high Walk Score. Based on a search off the central street of Sutton Drive, it received a 79 "Very Walkable" score meaning that "most errands can be accomplished on foot." There are a few nearby public transportation options and it has a "Bikeable" score of 62.
Attractions and Amenities in Cameron Village Raleigh
Cameron Village hosts the monthly Raleigh Makers Market next door to Benelux Coffee. It is a juried presentation by around 25 artists and craftsmen and features a live band. It is also home to the Village Draft House for those looking for some nearby nightlife, 100 types of beers on tap, and delicious burgers. There are so many shops and restaurants in and around this beautiful area that it is nearly impossible to list them all. You will really need to come on down and check it out for yourself.
If you'd like to discuss more options for having a professional manage your rental property contact us here and we can provide a cost quote, or virtual rental evaluation to nail down potential income.
Ready to Get Your Rental on the MoveZen System?
Our ultimate goal is to maximize your bottom line income while minimizing headaches. This starts with our new owner onboard process
Thinking of Switching Property Management Companies?
Don't let the unpleasant task of working with your current manager to close out your account hold you back, we'll do it all. Just notify them once in writing, and we'll do the rest