Finding a great rental home or, for owners, a quality tenant, can be tough, especially in a time such as now in the midst of a housing crisis where the rental market is hotter than ever. Covid has changed the way we interact in person, and scammers seem to be lurking around every corner. How do you truly know who to trust or what websites are reliable in the information provided or secure enough to input your personal information? Tenant Turner has revolutionized the rental industry in ways that have made our job as property managers a bit easier and the leasing process for prospective renters much smoother.
What is Tenant Turner?
Tenant Turner is software for property managers that uses customer relationship management technology to collect leads and verify them through means of prequalification. The company was founded by landlords themselves in 2008 as a result of the housing crisis at the time. When we list one of our rental properties on the market, with the help of Tenant Turner we can integrate that listing on many of the top listing websites such as Zillow, Trulia, and Apartments.com along with our company website. At this point, no matter which listing website is preferred, our listing can be viewed by prospective renters and if it piques your interest, you may inquire about the property directly on the listing.
Once you fill out the contact information form directly on the listing, Tenant Turner streamlines all inquiries, or leads, to us, the property manager, and from there, someone from our team then reaches out to answer any questions or schedule showing times. All of these leads are gathered, organized, and confidentially kept in a database to which only we as a company have secure access. We then have all the information needed to reach out to prospective tenants, whether by phone or email. Going the extra mile and taking the time to answer the prompted questions of income, ideal move-in dates, and pet information, if applicable, helps us help you better. When we have more information upfront before our initial contact, we can focus on making the viewing process and rental experience as smooth as possible.
Self-Access Showing
If the property on our listing is set up with an electronic Tenant Turner lockbox, this means it is available for contactless home viewing options which we like to call self-access showings. Self-access showings are the future of success in the rental market. Prospective tenants have the chance to view vacant rental homes in person when it is most convenient for them and never have to wait for an account manager to meet them to tour the home. During the peak and most uncertain months of COVID, this was a critical need in the rental industry with many competitors not offering self-access showings. With the increasing want and need to maintain distance from others, self-access showings were and continue to be a must for prospective renters.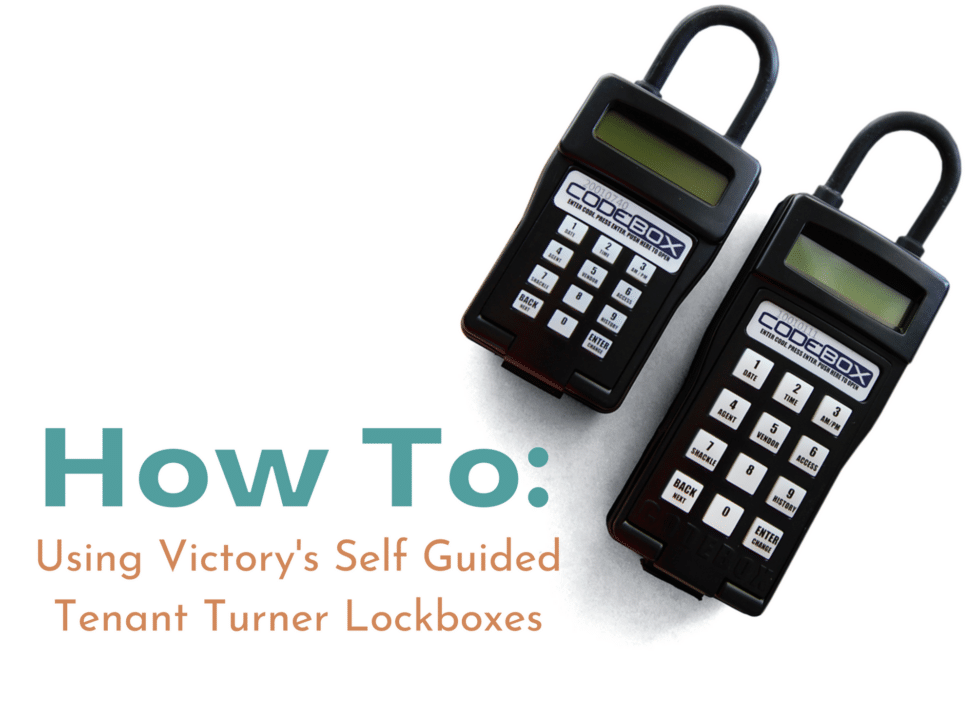 These electronic lockboxes are set up to allow access to vacant properties with temporary codes, allowing for more flexible showing times on vacant properties. The convenience of a self-access showing takes away the need to coordinate scheduling with one of our team members and allows for a broader time frame of when the property of interest can be viewed, including after normal business hours and on weekends. Because of the convenience, flexibility, and security Tenant Turner provides, it has also been proven that properties which are set up to allow these independent self-showings tend to rent faster than those which require an account manager to be present.
Is Tenant Turner safe?
To begin the process of scheduling a self-access showing, prospective tenants will receive a link to the cell phone number they provided on the contact information form that was originally filled out for the desired property. Accessing this link will prompt the prospective tenant to upload a photo of their government ID and answer a few questions. We know, sharing your personal information online is a bit scary, because no one wants to be a victim of identity theft or a rental scam. However, this is completely secure. Tenant Turner uses AI-based anti-fraud detection features to identify potential scammers. The information you provide is kept confidential in our system, as mentioned previously. No one other than our staff will be able to see the information provided. With proper government photo identification, we weed out scammers on our end as well as sort through prospects who are most interested and serious about renting.
Once you have the government-issued ID uploaded (no selfies, please) and your showing time scheduled, our team is kept updated throughout the process with text messages and emails on our end. Tenant Turner will have you confirm the serial number on the lockbox at the property then send a secure one-time passcode to access the key and allow you to explore the home. We will know when the property has been accessed and can be alerted if any questions arise during the showing. We can then quickly respond to prospective tenants' texts and enhance their customer service experience. Tenant Turner will send prompted reminders to make sure lights are off and doors are locked before returning the key to the box and leaving the property. Once the showing is complete, the property secured, and the key returned to the box, we encourage prospects to then provide feedback on the property with a rating scale and commentary. As a team, we love this feature because it helps us to know where we can improve customer satisfaction and the property if necessary.
Pre-qualification
Tenant Turner will even help narrow down and separate qualified leads from those who might not be a good fit for the property. If the prospective tenant fills out the pre-qualification questionnaire, we are able to get a little more information about what the prospect is looking for in a property. We will know if they meet the income requirements, if their desired move-in date is in a time frame suitable for the property, and if their furry family members are a good fit for the property as well. This allows us to easily narrow down the best-fit renters for our vacant homes. Tenant Turner even helps our staff out with its feature to send links to the application on our secure company website. When an application is accessed on our website, it is completed through Appfolio, our property management software, making the application process along with and reviewing applications on our end a seamless experience that can be done entirely online.
Vendor and Homeowner Access
Tenant Turner electronic lockboxes are set up with a secure access code that can be used at any time for access by our management team, our vendors, and the property owners. This feature is great in allowing us to do any small repairs needed and check on the property to allow showings and not slow down the rental process. The homeowners also have the comfort of knowing they can access the property anytime they would like. They only need to give us a call or email to request access.
Rental Rate Estimate | Quick, Accurate, No-Obligation
Tenant Turner Competitors
When compared to other companies, we still find Tenant Turner to be the best fit for our company. Tenant Turner competitors such as Rently and Showdigs offer similar features. Rently is very similar to Tenant Turner in that it uses electronic lockboxes and has a prescreening questionnaire for prospective tenants to answer and see if they prequalify to rent the property. In addition to verifying identity with a government photo ID, Rently, unfortunately, also requires prospective tenants to submit a credit card number and will charge a 99 cent fee before a self-access showing can be scheduled. They claim this is for security reasons but we've found renters prefer not to share their card numbers to simply view a home.
Showdigs is similar to Tenant Turner in the process of streamlining and prequalifying leads, however, they do not offer self-access showings. Tenants can still schedule showings, but there will have to be a knowledgeable real estate agent present for the showing. Since an agent will be present, Showdigs does not require a government ID or credit card information from prospects. Though this software might be a great option for busy property managers, it still requires coordination of schedules between the agent and the prospect and does not provide the comfort of a contactless showing. Also, the biggest drawback to Showdigs is that if the prospective tenant is a no-show it will be a waste of the agent's time.
As a company, we like to do our research and be as forward-thinking as possible. We have found Tenant Turner to be the best and most secure solution for finding great tenants for our rental properties and ensuring faster turnover rates between tenants. The ability to establish a personal connection with our future tenants is an integral part of our management platform. Tenant Turner gives us that and so much more.
We hope this gives you a better understanding of how Tenant Turner works and why we think it's so important to have a professional team manage your property. Coupled with this wonderful property management tool, we utilize Matterport to provide 3D Property Tours to give our real estate investors the most exposure possible to future tenants. Please feel free to reach out to us if you have any additional questions!
Our Extensive Landlord-Investor Property Management Guides Have Helped Thousands Just Like You – Get Yours Today