With its tall skyscrapers and expanding population, Charlotte is one of the most modern cities in the
union. However, Charlotte boasts a history stretching back before the War of Independence. And
the surrounding parks and countryside are some of the most beautiful in the nation.
#1. NASCAR Hall of Fame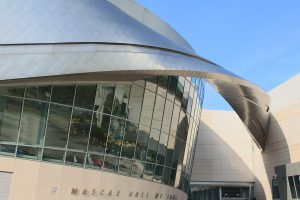 If you like fast cars and races, you'll love the National Association for Stock Car Auto Racing (NASCAR) Hall of Fame. Situated in the center of the city, the NASCAR Hall of Fame is a shrine to the people, vehicles, and organizations that have contributed to America's favorite motorsport. Inside the museum, you can visit the Glory Road. This banked ramp display is based on the Talladega Superspeedway. 18 historic cars are displayed upon this ramp, allowing you to get close to the vehicles.
More vehicles and other race-related artifacts are displayed in the Hall of Honor. Around the 360 degrees wall of this hall, exhibits honor each of the honorees. Your kids will be impressed to see evenLightning McQueen makes a special appearance.
This car museum also offers interactive exhibits where you can learn about the history and science
of this fascinating sport. Don't miss the Heritage Speedway, with a glass-enclosed exhibit of historic
artifacts. There are even simulator rides so you can take on the superstars!
You can also enjoy a delicious meal at the Buffalo Wild Wings Restaurant or NASCAR Hall of Fame
Café. And your day won't be complete without a visit to the gift shop where you can grab a NASCAR
baseball cap or T-shirt.
#2. Carowinds Amusement Park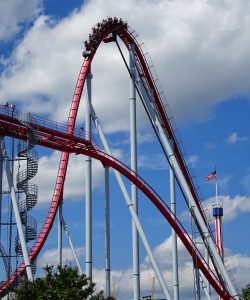 This huge combined theme park and water park is a great place to bring your whole family for thrills. The 407-acre park was deliberately constructed across the North Carolina-South Carolina border to promote cooperation between the two states.
Carowinds boasts an impressive 13 roller coasters, which include 2 of the world's 10 tallest. There are many other entertaining rides and activities. All the rides feature unique themes. My favorite is Afterburn, a steel roller coaster designed so the seats hang from the rails above your head and
your feet are dangling in the air. During the ride, you feel like you're flying.
Those who like an adrenaline rush will love the Fury 325. This is the world's fastest and tallest Giga coaster. The ride lasts 3 minutes and 25 seconds and reaches a height of 325 feet. There are several huge drops and many tight turns that whip you back and forth across the state line.
#3. Crowders Mountain State Park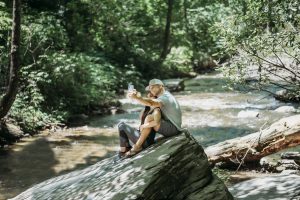 Charlotte isn't all about fast cars and modern skyscrapers. It's also a fantastic base for exploring
America's most beautiful countryside. Crowders Mountain State Park is a mere 33 miles west of Charlotte, and you can drive there in 40 minutes.
This North Carolina state park is popular for rock climbing and hiking. 4 trails can take you to the summit of Crowders Mountain. On a clear day, you can see Charlotte's skyscrapers on the eastern horizon. Why not take along some travel binoculars to take full advantage of the views from the top? All 4 trails to the summit are classed as strenuous. They vary in length from 0.8 miles to 2.5 miles, so you can choose how long a climb you want to take. Crowders Mountain State Park also offers a range of other trails. Many are suitable for all the family, with trails designed to take your kids out camping on the weekend. If you're planning on following one of the longer and more strenuous trails, consider investing in a good quality hiking GPS unit.
#4. Discovery Place Science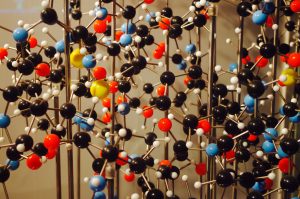 This fantastic, hands-on science museum is one of the most popular attractions in Charlotte. It features the largest IMAX Dome Theatre in the Carolinas and fascinating interactive exhibits. Discovery Place Science offers activities to entertain visitors of all ages and interests.
All the exhibition areas are fun and educational. The World Alive area teaches visitors about our delicate ecosystem. The Tug of War exhibit teaches you about fulcrums and how gears work. The Cool Stuff area is designed to keep your kids entertained for hours. This is one of the most state-of-the-art science and technology museums in the world.
#5. Billy Graham Library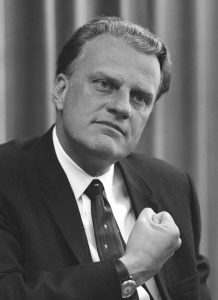 You don't have to be a Christian to be inspired by this museum dedicated to the life and works of one of the most influential evangelists of the 20th century. The Graham family farm has been converted into a museum filled with fascinating insights into Billy Graham and his family. The farmhouse has been restored and the barn converted into a combined museum, library, and visitors center. Exhibits include handguns handed in by gang members following a 16-week mission in New York. Photographs of Billy Graham's family and career are displayed alongside artifacts from his life. One engaging exhibit displays a collection of TVs from different time periods. These TVs are used to display Billy Graham's speeches in chronological order, so you can see him as he would have appeared to TV audiences back then. Perhaps the most inspiring and moving part of your visit is paying respect at the graves of Billy and Ruth Graham. Ruth's grave indicates her personality. She once saw a sign following roadworks that read "End of Construction — Thank you for your patience" and decided that's what she wanted to be inscribed on her tombstone.
This article comes to us from Jess with Outside Pursuits. For more Travel tips and tricks, visit them at OutSidePursites.com.