Welcome to Your New Home: Move-In Help and Tips
Congratulations on your new home with MoveZen Property Management! We're excited to have you as part of our community. Moving into a new place can be both exciting and a little overwhelming, but we're here to make the transition as smooth as possible. Here are some move-in help and tips to ensure you settle in comfortably:
Before unpacking, take a walkthrough of your new home. Check for any existing damages and report them to us promptly. This will help avoid any confusion when it's time to move out.
Familiarize yourself with emergency exits, fire alarms, and any safety protocols in your home. Your well-being is our top priority.
Maintain a folder with important documents, such as your lease, maintenance requests, and contact information for our team.
If you have any questions or need assistance, don't hesitate to reach out to our friendly team. We're here to support you throughout your stay.
What's Inside Your Gift Bag?
Clear clogs effortlessly with a drain snake. A simple tool for unclogging sinks, showers, and drains, restoring smooth flow.
Tame cable chaos with the velcro and rubber cord organizers. Neatly manage wires for a clutter-free workspace and hassle-free device charging.
Protect floors and furniture with felt pads. Prevent scratches and noise, while effortlessly moving chairs and tables.
Silent door solutions. Plastic adhesive door stoppers prevent wall marks and reduce noise, ensuring a peaceful environment.
Monkey Hooks: Your Solution for Easy and Secure Wall Mounting
Say goodbye to the frustration of heavy tools and complicated installations. Monkey Hooks offer a simple, no-drill approach to hanging items securely on walls. With their unique design, they easily slip into drywall, leaving just a tiny hole behind. No need for anchors or studs – Monkey Hooks hold up to 35 pounds without compromising the integrity of your walls.
MoveZen Air Filter Delivery Program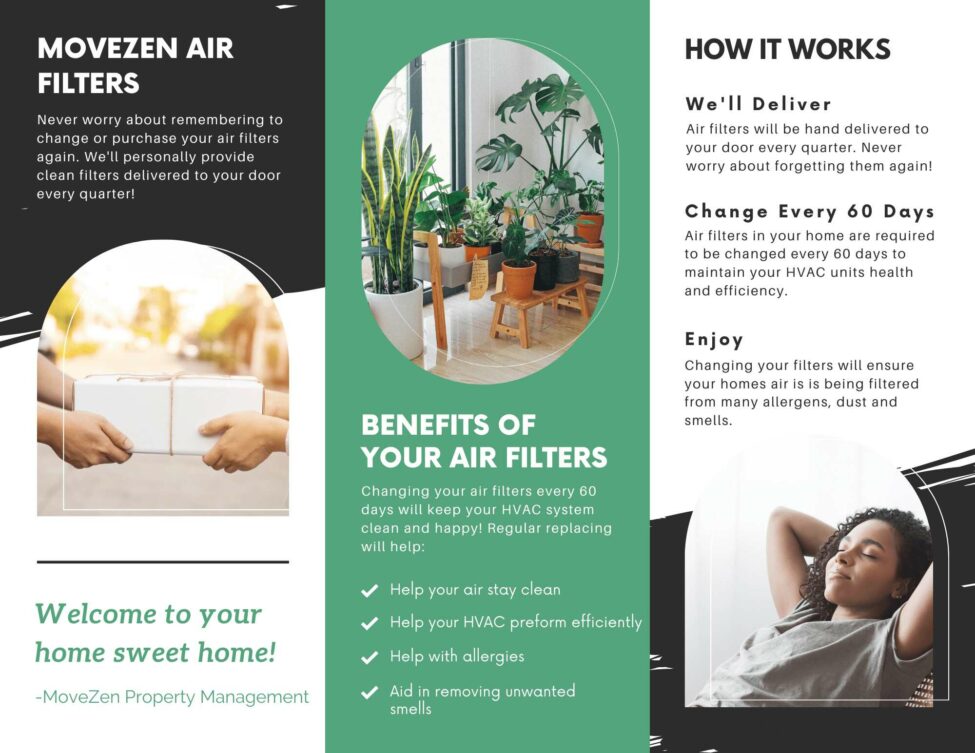 Resident Tips And Maintenance Help
For emergency maintenance please call your local office and select 3 when prompted.